It all started with Sun Care
Our founder, renowned Dermatologic oncologist Dr. Robert J. Friedman, believed that protecting skin from UV rays and environmental stressors every day was at the center of our overall wellness. So, he set out to reinvent, elevate, and inspire the daily use of SPF by developing clean, effective formulas equal to clinical grade skincare—that also felt luxurious enough to wear every day.
Today, we remain true to our founding philosophy, yet continue to evolve to meet the changing needs of consumers and our environment. Our groundbreaking products are still at the forefront of SPF Skincare—proving that skin care is sun care and should be a part of your daily routine.
Paraben Free

Fragrance Free

Cruelty Free

Vegan

Mineral-Based

oil Free
Our Commitment to Sustainability
Building on our passion for protecting our skin with clean, effective, broad-spectrum SPF skincare, we also feel strongly about protecting the planet. We're consciously committed to treading lightly in the world and being mindful about everything that goes into making our skincare. We know that every step we take impacts the environment, which in turn affects us all.
Planet Positive Packaging

All of our packaging is 100% recyclable and has met the high standards of the Sustainable Forestry Initiative.

Sustainable Manufacturing

We use zero-carbon manufacturing facilities with the best sustainability practices, including advanced solar power, to reduce our carbon footprint.

Reef Safe

We don't use oxybenzone or octinoxate which can bleed into the ecosystem and cause coral bleaching, depleting the ocean of the vital nutrients it needs to stay healthy.

Must-have Mineral

Our mineral formulas are made from 100% naturally derived mineral zinc oxide—the healthiest sunscreen option for your skin and the environment.

No To Nasties

Our ingredients are clean, as well as ethically and sustainably sourced.

Sustainably Scent Free

Our formulas are free from artificial fragrances that can damage your health and the environment—like the film you often see on oceans and lakes. It goes without saying—but we'll say it anyway: We never test on animals and are 100% Vegan.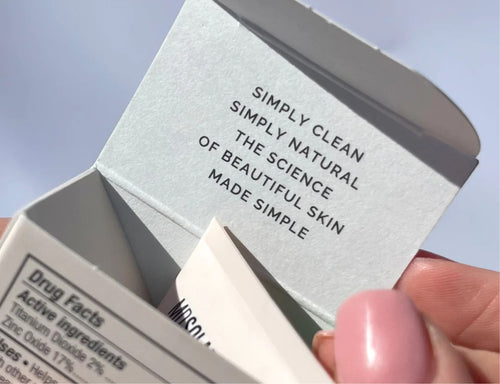 Making Healthy Skin Simple
MDSolarSciences is on a mission to set better standards for everyone's SPF experience. Our science-backed Dermatologist-developed skincare feels so amazing it turns healthy habits into daily pleasures.
"We're dedicated to true skin wellness through the creation of luxurious, clean products that feel wonderful on the skin."